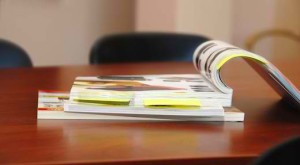 Catalog shopping is an excellent way to get the items you need without leaving the house. You don't have to drive to the mall, deal with crowds or stand in long checkout lines. Simply open your catalog, select your items and place your order online.
Not all retailers offer catalog shopping. The ones who do, however, typically maintain a database of customers who purchase from the catalog. Occasionally, regular customers receive an invitation to apply for a catalog card. Getting pre-approved for a card has its benefits. But if you have enough credit cards in your wallet —or no credit history —you might ignore pre-approved offers.
There are several reasons why some shrug off the opportunity to get a catalog card —primarily because of the terms. For example, these cards can only be used with a specific retailer, which limits its use. Also, catalog cards tend to feature higher rates than most major credit cards, which is costly if you carry a balance from month-to-month.
Understandably, a catalog card isn't right for everyone. However, if you're a big catalog shopper, there are sound reasons to apply for these cards.
Instant Online Approval
A catalog card has one of the easiest application processes. If you apply for a major credit card, the credit card company will run a complete credit check. It might take several hours to receive a response; and if approved, it may take several additional days to receive your card in the mail.
The process is slightly different with a catalog card. The majority of retailers offer instant online approvals. You can visit the retailer's website 24 hours a day, submit your application, and within seconds you'll learn if you're approved or denied for a card. After an online approval, you receive a credit card number, which lets you start shopping immediately.
Helps Rebuild or Establish Credit
A catalog card is extremely beneficial if you're looking to establish or rebuild your credit history. It's harder to get approved for a major credit card with no credit or bad credit. And although secured credit cards are another option for building credit, these require a minimum security deposit of $250.
There are no security deposits with a catalog card, and credit history isn't a huge decisive factor. Therefore, it's easier to get approved if you have a bankruptcy, repossession or other negative information on your credit file.
Cardholder Perks
Catalog cards frequently offer exclusive perks for cardholders. Depending on the retailer, there may be an option to defer billing for 60 or 90 days. Additionally, you may receive free shipping if you use your catalog card when placing an order; or you might receive offers to take $20 off your purchase. Unfortunately, perks and discounts are not available if you use a bank debit card or a major credit card.