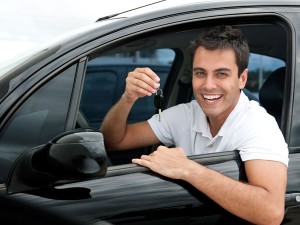 Just because dealerships keep a massive inventory of cars doesn't mean "anytime" is the right time to purchase one. Buying a car is a decision that shouldn't be taken lightly, especially if you're financing the purchase. You want the best price, the best interest rate, and you need to be confident in your ability to handle the monthly payment. There are no hard or fast rules regarding the best time to buy a car, but if you can time your purchase right, you can save hundreds, even thousands of dollars.
Here are four reasons why it's the best time to buy a car.
You Have Awesome Credit
You don't need good credit to buy a car, especially since many banks offer no credit and fresh start auto loans. But if you're looking for a fast, easy approval and a favorable interest rate, the higher your credit score, the better.
A credit score in the 700s or 800s pretty much guarantees your approval. You can walk into practically any bank and get an auto loan without a cosigner or down payment. If you don't have good credit, take steps to improve your rating. Pay your bills on time, pay off debts and only apply for credit when necessary.
You Can Get a Deal on Older Inventory
Many dealerships are ready to negotiate and move inventory at the end of the calendar year to meet annual sales goals. But this isn't the only time to shop for a car.
If you're in the market for a new car, but you don't want to pay new car prices, late summer and early fall are the best times to save on the current year's model. This is when dealerships start receiving the next year's inventory. They're eager to sell the current year's model to make room on the lot, which translates into attractive discounts and incentives. There may not be a huge selection of the current year's model, but you can save hundreds or thousands if you find what you're looking for.
You Can Afford a Loan
You might need a car, but an auto loan isn't going to happen unless a bank can verify your employment or income source. Make sure you have your documentation together before applying for a loan. This includes your most recent paycheck stubs and two year's tax returns if you're self-employed. It might also be the best time to purchase if you have cash for a down payment — maybe extra money from a work bonus or tax refund. Although down payments aren't required for many auto loans, it reduces how much you need to finance and lowers financing costs.
You Can Get a Low Rate
A low auto loan rate is just as important as getting the best price for a car. Nowadays, many banks and credit unions offer auto loan rates as low as 2% or 3%, and if you have a credit score over 800 you might qualify for 0% interest.
Interest rates can change at anytime, and there's no guarantee how long rates will remain low. So if you're serious about getting a car, now's the time to act. Interest rates determine how much you pay over the life of the loan. A low rate can lower monthly payments, and it increases purchasing power helping you qualify for a more expensive automobile.