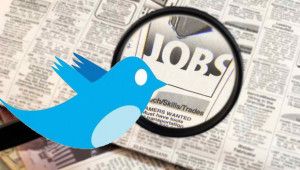 If you're looking for a new job, you may subscribe to the newspaper and check daily for openings, or you might hit the pavement each day and leave resumes with local companies and firms. Your hard work may eventually pay off. But oftentimes, finding new employment is much easier to say.
Looking for work can be tiresome and frustrating, and it can take months or longer to find suitable work. Putting on your best business attire, printing a stack of fresh, updated resumes and going from business to business can score you a job. But this isn't the only option available to you. This is the digital age, and if you want to find a job sooner, learn how to use social media to your advantage.
Follow Companies on Twitter
Make a list of companies that might offer positions related to your field of expertise and then follow these companies on Twitter. It's free to open an account, and once you're following these companies, you may learn of job openings before the general public. Some companies use job boards and the newspapers to advertise openings, however, this approach isn't always cheap. For companies looking to save money, using social media to announce vacancies is cost-effective. But to benefit from these announcements, you have to connect with the company.
Complete Your LinkedIn Profile
Think of this as your online resume. LinkedIn is a professional social media site that lets you showcase your experience and education, plus you can connect with other professionals and firms. Complete your personal profile, and once you're finished, connect with firms to build your professional network. This is also an excellent way to learn about job openings before the public. And with a completed professional profile, hiring managers may stumble upon your profile in a search. If you have the skills and education needed for the position, they may request a meeting with you.
Inform Your Personal Network
Don't be ashamed to let friends and family know that you're looking for work. If you have a personal Facebook or Twitter account, submit a brief post about your situation. Don't reveal the nitty gritty details, simply state that you're looking for work, and ask anyone who hears of an opening to inbox you with the information. It's that simple. Sure, this might be a long shot, but you never know. Some employers prefer word of mouth advertising, and there's a strong chance that at least one of your friends will have information about a job.
Clean Up Your Social Media Profiles
Although you might view social media as a form of entertainment or recreation, employers may think differently. And if you're a candidate for a position, hiring managers will probably check your social media profile to assess your character outside the workplace. Photos of you partying or getting drunk aren't going to leave a good first impression, and the employer may determine that you're not right for the position. Remove photos, language and comments that might give the wrong impression.