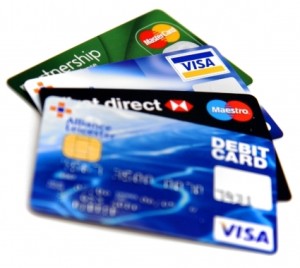 When applying for a new credit card, you shouldn't complete an application simply because it arrived in the mail. There are different types of credit cards available, and to get the most out of your card, you need to know your options and choose the one that's best for your lifestyle.
What does your credit report look like?
Examining your credit report on an annual basis not only protects you against identify theft and other types of fraud, it's the best way to know your credit standing. Because there are credit cards for different credit levels, being familiar with your personal credit can help you choose the right card. For example, you wouldn't apply for a prime credit card with poor credit, and vice versa.
Before you complete an application for a new credit card, go to AnnualCreditReport.com and request your free report. There's also the option to order your personal credit score from the site. With this information in hand, you're better equipped to apply for the right credit card. Getting a credit card that's right for your credit level saves time and lowers the risk of a rejection.
Examine your lifestyle.
Since credit cards vary greatly, assessing your lifestyle can also help you choose the right card. How often do you travel? Do you use your credit card on a daily basis? If you answer "yes" to either question, a rewards travel card might be the best choice.
You can earn points or miles for every $1 you spend, and after you accumulate enough points, you can redeem them for cash, gift cards, merchandise, airline tickets, hotels and more. These cards basically reward you for regular use, plus they can help you save money on future purchases.
What are your payment habits?
Be honest with yourself. Do you carry a balance each month? How you answer this question is pertinent to finding a new credit card. There is no escaping interest when you apply for a credit card. Even if the credit card company offers a 0% introductory APR, this rate eventually expires at which time you'll pay a regular APR. A credit card with a low rate is cost-effective if you carry a balance from month-to-month. You'll pay lower finance fees each month, plus a lower minimum payment.
Check with different banks.
Contact your personal bank and discuss your options for a credit card. This method can work if you have good credit, bad credit or no credit history. Banks typically offer an array of credit card products. These include secured credit cards, student credit cards and reward credit cards. Additionally, go online and compare the best credit cards for your credit level. Most local banks only offer a few types of credit cards. You can broaden your search with the Internet and find detailed information about various credit cards, such as annual fees, introductory rates, other fees and credit requirements.