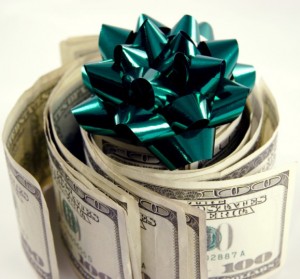 With the gift giving season in full effect, you might look for easier ways to complete your shopping. In all honesty, most people don't want to spend their weekends and evenings braving large crowds and long retail lines. For this reason, many turn their attention online and shop from the comfort of their living room.
But with so many retail stores and products at your fingertips, it's easy to go overboard and rack up a lot of unnecessary credit card debt. Fortunately, there are practical ways to manage your money and get through the season, minus the post-holiday spending blues.
Make a budget.
Give yourself a preset spending limit and resolve to stay within this budget. Once you begin shopping online, you're likely to stumble upon some amazing deals. You might see multiple items that are perfect for your parents, siblings, children or yourself. Without a preset budget, you risk spending way more than necessary. Be realistic about your expenses and you'll avoid buyer's remorse once the credit card statements arrive.
Trim down your gift list.
There's no rule that says you have to buy for every person you know. Think of how much you'd spend if you purchased gifts for every cousin, coworker, friend and neighbor. Create a list, and then cut this list to accommodate your budget.
Comparison shop.
Shopping online makes comparison shopping super easy and convenient. Rather than drive across town to check prices on an item, simply type in the retailer's web address and search for the cheapest price. You might stumble upon some amazing clearance and sale items, and spend under your budget.
Skip the gift wrapping.
Some online retailers offer gift wrapping at an additional cost. This is convenient and adds a nice touch to your gift. But is it really necessary? Let's say a retailer charges an extra $5 for gift wrapping. Multiply this cost by 20 gifts and you've spent an extra $100.
Take advantage of coupons.
The deals and savings do not stop after Black Friday. In fact, many online retailers offer coupons throughout the month of December. Sign up for email alerts and receive promotions to take a certain percentage off your purchase, or enjoy buy-one-get-one-free offers. Search online for coupon codes and take advantage of free shipping.
Go used.
You don't have to buy brand new items? Check with online auction sites and other classified sites to see if you can find great items for less. As long as the item is in good condition, the recipient may never know the difference.