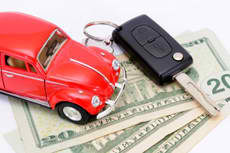 Some people with bad credit feel that they'll have to pay cash for a vehicle. This is certainly one way to snag a new car. This way, you don't have to deal with credit checks and monthly payments. However, bad credit doesn't mean that you can't get approved for a car loan.
Obviously, you can't walk into any bank and get a car loan. But there are plenty of financial institutions that work with people who have poor credit scores. These banks understand that situations beyond your control happen. You may lose a job, get a divorce or deal with other issues that complicate your finances. And when you don't have enough income, you're likely to get behind on bills and damage your credit score.
Everyone deserves a second chance. The good news is that you can find a car loan with a low score.
Start With Your Home Bank or Credit Union
If you have a checking or savings account, and you've always maintained a good relationship with the financial institution, your bank or credit union might willingly give you a car loan despite your low credit score.
There are no guarantees. But at the same time, many banks and credit unions offer fresh start programs to help people rebuild their credit history. These banks might offer secured credit cards to those looking to establish credit or repair their credit, as well as personal or auto loans to help account holders get back on their feet.
Compare Interest Rates
The truth is, even if you qualify for a car loan with a low credit score, you're not likely to get the best interest rate. This is not the best news, especially if you're looking to keep monthly payments affordable. But although you might receive a higher rate than someone with good credit, this doesn't mean that you'll get hit with an exorbitant rate.
Because you have fewer financing options, some banks might take advantage of you and charge more than necessary. Therefore, shop around and request no-obligation loan quotes from several banks.
These banks will look at your complete credit history and ask for income information. Based on these factors, they'll determine your interest rate and terms. With three or four quotes from different banks or credit unions, you can compare options and select the cheapest car loan.
Save Up a Down Payment
Banks don't always require a down payment when purchasing a car. If you have a job and adequate income, you can often sign and drive. But if you have a low credit score, giving the bank a down payment gets your foot in the door. Not only because you'll have a greater stake in the car, a larger down payment reduces how much you need to finance, thus greatly reduces the lender's risk.
Cosigner
It takes savvy negotiating to persuade someone to cosign a loan. But if your parent, sibling or spouse has excellent credit and willing to help you acquire financing, adding this person to your vehicle loan can help you qualify with a low score.