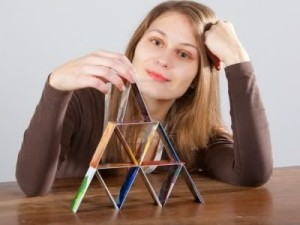 Getting an auto loan or mortgage loan is never simple, as lenders have strict underwriting guidelines. If you have steady employment and plenty of income to afford a home loan or auto loan, you might feel that you will be approved with no issues. However, it takes more than a job and income to get approved for certain types of loans.
Lenders need to see a pattern of good credit management, and if you do not have a credit history, this single factor can stop a loan approval. There are ways to overcome this hurdle. A credit building credit card can help you establish a credit history. But you shouldn't apply for any type of credit builder card. These cards vary by bank. Learn the different features of these cards and apply for the one that's right for you.
Have you been denied a major bank card?
A credit builder credit card is perfect if you've been denied major bank cards. It's a catch-22. You need credit to build credit, but without a credit history, most banks will not approve your request for a credit card. A credit builder card can get your foot in the door. The terms aren't always the best. But rather than look down on these cards, think of them as a temporary means to better credit.
What is the interest rate?
Always check the interest rate of a credit builder card. Maybe you feel that high interest rates only affect people with bad credit. However, applicants with no credit history are just as likely to get hit with higher rates.
Because banks can't evaluate a credit pattern, they will automatically classify you as high risk. As a high-risk applicant, you might pay an interest rate 20% or higher. This increases your monthly interest charges and minimum payments.
This isn't an issue if you pay off your credit card balance in full each month. But if you plan to carry a balance from month-to-month, be selective and choose a credit builder credit card with the lowest interest rate.
What are the fees?
The credit card rate isn't the only cost to consider. Credit builder cards typically have more fees than other types of credit cards. These can include set up fees, maintenance fees, higher annual fees, and if you are applying for a secured credit, you will need a security deposit. Fees shouldn't be a deal breaker. But it pays to shop around and make sure that the card fees are fair and competitive.
Will the creditor report your credit activity?
For a credit builder card to work, the issuing bank must report your credit activity to the bureaus on a regular basis. Paying your balance in full and timely payments are crucial to establishing or improving credit. But if the bank fails to report responsible use, your credit score will remain the same. Narrow down a list of the best credit builder cards, and then contact banks to see how often they report to the bureaus.