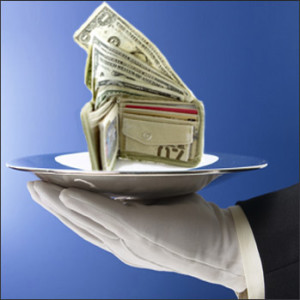 A personal loan is a type of loan that can be used for a variety of purposes. Perhaps you're looking to make a few improvements around the house and don't have the money in savings. Then again, maybe you're planning a wedding or need cash for other purposes such as debt consolidation. In these situations, applying for a loan with a bank or credit union can meet your immediate expenses.
But while personal loans are common, not everyone qualifies for financing. Here are four things to consider when getting a personal loan.
Know your credit
Check your credit report and score before applying for any type of loan. This information is what lenders see when they review your credit profile, and the contents of your report determine whether you're eligible for financing. Errors on your report, high account balances and excessive inquiries don't help your approval odds. But if you identify problems on your report and make improvements, you might avoid a rejection.
Knowing your credit level can help you apply for the right type of personal loan. Someone with a score 750 and higher may be a good candidate for an unsecured personal loan, whereas an applicant with a credit score of 650 may need collateral or a cosigner.
Learn your options
There are different types of personal loans and it helps to know your options. A bank loan is a common type of personal loan. These loans offer longer repayment terms and reasonable rates, yet most people don't meet the requirements. Talk with a banker and discuss your options. What is the minimum credit score for personal loans? Do you need collateral? How much can you borrow?
If you do not qualify for a bank personal loan, consider short-term loans with a payday lender. These loans aren't as appealing and feature higher rates. But if you need immediate cash, and can  fully repay the debt in about two weeks, these loans are worth consideration.
Get proof of income
Any type of loan is contingent on proof of income. It takes more than an excellent credit history to qualify for a personal bank loan. Lenders need to see paycheck stubs, tax returns, and sometimes, they'll request an income verification letter from your employer. The same rules apply when applying for a payday loan. You'll need to bring or fax a copy of your most recent paycheck to confirm your monthly income.
Compare different loans
Don't forget to shop around when getting a personal loan. Eagerness to get your hands on the cash may cloud your judgment, causing you to accept the first loan that comes your way. This is a big mistake – a costly mistake.
Not all banks are the same. They offer different loan terms, and interest rates can vary among financial institutions. Rushing the loan process and only working with one lender is convenient and fast, but this approach won't benefit your pocket. You could end up with a higher interest rate and pay more over the life of your loan. As a rule: get at least two or three quotes from different lenders.