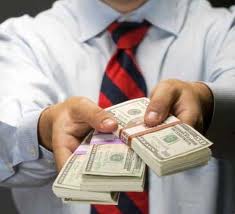 Did a trip to the emergency room result in a huge medical bill? Is your house overdue for a few repairs? Do you question how you're going to meet all your expenses this month? Stop stressing and take action.
You're not the first person to get hit with a bunch of unexpected expenses at once, and you definitely won't be the last. And while this isn't the best financial position, there are ways to get around this hurdle and keep your head above water.
One of two things can happen. You can either wait for your financial world to collapse, or you can apply for a big personal loan and take control of your finances.
A short-term personal loan is not your typical bank loan. If you've ever tried to get a big personal loan from your present bank, you probably know the challenges firsthand. Getting a bank loan isn't too difficult if you have excellent credit and collateral. In this case, the bank is practically your best friend. But if you walk into a bank with less-than-perfect credit and no collateral, you won't get very far.
This very reason alone is why some people never apply for personal loans. Understand, however, that a bank is not your only option. Lending companies are popping up all over, all with the same objective – offering short-term personal loans to help you in a financial jam.
Think you can benefit from a big personal loan? Here are five things to know about financing.
Flexible credit requirements.
Don't think that you need perfect credit. In fact, credit doesn't even factor into the decision. In this case, it's not about your credit score, but whether you have the financial ability to pay back your loan.
Income requirements.
Typically, short-term personal loans require a minimum monthly income of $1,000. This may vary slightly by lending company. To be eligible, you must provide proof of at least one to three months of consistent income.
Active banking account.
Only apply for a personal short-term loan if you have an active checking account with direct deposit. The lending company will not issue a check, nor will you write a check when you're ready to pay your bill. Everything is handled electronically. The lender deposits the loan into your account and drafts your account on due dates. Make sure that you read the contract and fully agree with the terms.
Repayment terms.
This is where it can get a bit tricky. The average payday loan or cash advance is due in full within 14 days. However, personal loans have gotten creative in recent times, and nowadays, it's not uncommon to have a short-term personal loan with a longer repayment schedule. Some payday loan companies have 30-day terms, and if you apply for a short-term installment loan you can repay the balance over several months.
Uses for a personal loan. There are no restrictions on how you use a big personal loan – although lending companies encourage responsible use. Pay your bills, schedule a car repair, make home improvements or meet another immediate need. Whatever your plans, make sure you borrow only what you need, and repay the loan as soon as possible to reduce finance fees.