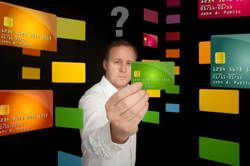 If you're shopping for a credit card, an unsecured credit card might be your first choice. You don't have to pay a security deposit or maintenance fees with these credit cards, plus many unsecured credit cards come with no annual fee. But to qualify for this type of credit card, you need a good credit history. This can be problematic for people with little or no credit history.
Getting a credit card is one of the fastest ways to establish credit or repair a damaged credit history. But, what are your options if you do not qualify for an unsecured credit card?
A secured credit card is the next best thing because you can qualify despite your credit history. Approval is based on whether you're employed, and whether you can come up with the necessary security deposit. Get a secured credit card and you're one step closer to good credit. However, you should not apply for any and every secured credit card.
Here are four questions to ask before applying for a secured credit card.
What are the credit card fees?
Secured credit cards are not cheap, and your credit card provider will charge various fees. These fees are often unavoidable, but you can keep your fees to a minimum. Shop around and compare different secured credit cards. Some credit card companies require a minimum security deposit of $500, whereas others accept security deposits as low as $250. Other common fees include a setup fee, a monthly maintenance fee and an annual fee. Fees are typically charged directly to the credit card, which can quickly decrease your available credit.
 Will the creditor report to the bureaus?
If the credit card provider does not report to the bureaus, move on. Secured credit cards are designed to build and improve your credit. In order to build or repair your credit, your creditor must update your credit report with positive information. If not, your timeliness and responsible credit habits will be in vain. Contact creditors before completing the application. Inquire as to whether the company reports to the bureaus, and how often.
Will you qualify for unsecured credit in the future?
Rules regarding secured credit cards vary. But oftentimes, a credit card company will reward your responsible credit habits. Maintain a good record for 18-24 months, and the creditor may refund your security deposit and offer you an unsecured credit card. Understand, however, this is dependent on your credit habits. For this to happen, you need to pay your bills on time each month and keep a low balance.
Does the creditor offer online account management?
Secured credit cards are offered by small and big banks. But unfortunately, some smaller banks do not offer online account management. When deciding where to apply, choose a bank with up-to-date technology. This way, you can regularly monitor your account and keep track of your spending. Additionally, online account management lets you pay your bill online, thus lowering your risk of a late payment.